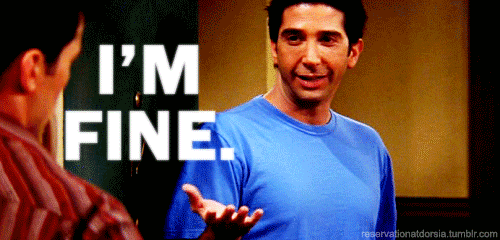 Lately, I've been feeling pretty happy with life. It's been going well. Most of my insecurities seemed under control. Work: good. Boys: my dating life is a trainwreck, but overall the ratio of interested guys vs available time is totally acceptable to me. Dancing: going well.
And then this week happened.
Exhibit A: Teacher posted this video of us dancing.
I freaked out. This (beautiful) man has smaller legs than me. I see him on the video – he looks like a normal fit guy: slim, maybe, but by no means twiggy. I look at myself in the mirror at home, and in my cute work outfits, and I think to myself "dayum girl, you fine!" I look at this video, and I am thicker than teacher. "The camera adds 10lbs", you say. HE IS IN THE SAME CAMERA AS ME. He looks like that in real life. That means I look like that in real life. And presto! All my body insecurities are back.
Exhibit B: Work eval
I had my first work eval this week. It was a great eval. My hard work = appreciated. Yippee! Seeing as constructive criticism is a good thing, my bosses gave me feedback: I'm good. But I am not a natural leader. All this time I cofounded my newfound assertiveness with being a leader. Major fail in understanding. And given that I pride myself (pride, not vanity) on my understanding… realizing I was wide off the mark stings. A lot.
Over the past few weeks, I've somehow believed my own hype, and lost humility.
#toobigformyshoes
#backtothedrawingboard
Exhibit C: Men and their need for vulnerability
Last night I went for drinks with Older Gentleman (first mentioned here). Somehow we got on to the topic of my dating life, and my habit of physically beautiful guys who are not long-term candidates, with a segway to my refusal to be vulnerable. He told me, bluntly, that if he is interested in a gal, he expects her to meet him halfway. I told him, bluntly, Buddy, I've been going for drinks/food with you semi regularly, because you interest and attract me and I enjoy you. I can't handle more than that, I am scared. His feedback: take a risk or pay the price of a safe life.
I went home and tried not to cry. Cerebral me knows he wasn't criticizing me, he was merely letting me know the consequence of my tendency of keeping ppl at arm's length. Emotional me is devastated: I am not good enough. Again. It is never enough.
It wasn't enough for my ex who realized he didn't want to marry me when he went ring shopping.
It wasn't enough for Beaut: I explored vulnerability, I showed all of myself to him, comforted by the parallels in our lives (anxiety, trust issues, anger issues, family issues). Here was someone who could understand me. He chose to understand someone else instead.
And now, apparently, despite all my hard work at tolerating vulnerability, being myself, Older Gentleman has signaled that the reason why I am stuck with all these bozos is that any man of substance will find me inadequate because I do not demonstrate a sufficient capacity for vulnerability. I am not enough for a guy to stick around and try get to know me, apparently.
I am not enough.
This morning, having slept on it, my hurt had shifted to anger. Fuck off. I am who I am. I am doing the best I can. And then…
I was talking on the phone with Gentleman-Friend Hickster, who pointed that I have no conversation: I am a pussy. Yeah. He has a way with words, that one, clearly. Pressed for clarification, Hickster elaborated: he has noticed that every single time he broaches a personal topic, I immediately stop talking. I am a pussy because rather than handle potential discomfort/honesty/resulting intimacy, I shut down the convo.
2 guys, 24 hours, same feedback.
Well, fuck.